One of my favorite holiday traditions is unwrapping and reading a Christmas book every day of the 25 days before Christmas. Our twins get super excited to open a new book every day and it is a fun way to snuggle together and read a variety of holiday stories together. You can check out our Two Year Old List here and our Four Year Old List. This list is from when our twins were three. Some of our books stay the same (The Polar Express) but some of them get added and subtracted based on their age and new finds. Here are our 25 books for this holiday season.

(affiliate links are included below. Bambini Travel will receive a small commission if you purchase after clicking)

1. The Little Drummer Boy by Ezra Jack Keats
This was their hands down favorite Christmas book last year. Caldecott Winner, Ezra Jack Keats has softly illustrated this sweet, rhythmic carol with love. It is a gentle representation that I love and a book we can sing - which our kids love.

2. Bear Stays Up for Christmas by Karma Wilson
Karma Wilson is one of our favorite authors - especially her bear series. In this story, bear attempts to stay awake for Christmas Eve with his little friends.

3. 12 Days of Christmas by Rachel Isadora
A beautiful version of this classic song set in Africa. Unique and interesting. Much like the THIS IS A TREE song, Isadora depicts a unique and interesting version with rebus style pictures for young readers to help follow along.

4. Llama Llama Holiday Drama by Anna Dewdney
Beloved Llama is preparing for Christmas. As with most young children, he gets impatient and overwhelmed by the holiday season. After he calms down, also like most children, he has a lovely holiday.

5. The Polar Express by Chris Van Allsburg
A classic and probably my favorite story for capturing the magic of Christmas. Breathtaking illustrations and delicious words. Plus my son is obsessed with trains, so this is a huge win in our house.

6. The Sweet Smell of Christmas by Patricia M. Scarry
A scratch and sniff book that I read every Christmas as a child. Follow Little Bear as he bakes cookies, hangs candy canes, and finds the perfect tree. Fun book about the scents of Christmas approaching.

7. The Gift of Nothing by Patrick McDonnell
A wonderful book about gift giving. Mooch the cat is attempting to figure out what to give his friend Earl the dog who has everything.

8. Merry Christmas, BIG HUNGRY BEAR! By Don and Audrey Wood
We adore Audrey and Don Wood's The Little Mouse, The Red Ripe Strawberry, and the Big Hungry Bear. It is one of my favorite read alouds of all time. This is a sweet adaptation for Christmas. The Little Mouse hears that the Big Hungry Bear likes Christmas presents and starts to guard his gifts. Then he learns that the Bear does not get gifts of his own. What he does with this information is wonderful and heart warming.

9. Angelina's Christmas by Katharine Holabird
My daughter has taken a real liking to Angelina this year, so when I discovered this I knew it needed to go on our list. Angelina Ballerina spreads some Christmas cheer to a lonely retired mailman in this sweet Christmas story. It is a sweet story about the Christmas spirit, but my favorite part is the illustrations. Helen Craig has beautifully captured the warmth of the season. The snow flecked town with lights warming the houses or the family gathered around a warm table to make cookies are careful reflections of the light that Christmas exudes.

10. How Do Dinosaurs Say Merry Christmas? By Jane Yolen and Mark Teague
At this point, most people have read HOW DO DINOSAURS SAY GOODNIGHT. This book follows a similar pattern as the others in the series. It invites listeners to respond with questions. Our twins shout out NO enthusiastically at all of the dinosaurs' mischief. The silly format doesn't prevent from a wealth of holiday vocabulary and discussion topics from being woven in to the book.

11. The Jolly Christmas Postman by Allan Ahlbers and Janet Ahlberg
The jolly postman is busy following his route through fairy tales to deliver holiday cards and messages. A great lap story. Each page has a letter or note tucked into the page delivered by the postman to various characters. This book is more fun this year than last. Our twins are more familiar with fairy tales this year and they are more excited to find them throughout the book.

12. I'll Be Home for Christmas by Holly Hobbie
We originally shared this book as part of our Holiday Travel Books post. We adore Toot and Puddle. These humorous books about two piggie friends tackle a wide range of issues in sweet ways perfect for little ones. In this tale, Puddle is cuddled up at home while Toot is off having adventures. Toot promises to be home for the holidays and despite cancelled flights and snowdrifts, he finds a way to be with his friend. This addresses many of the common winter travel troubles in a child friendly way paired with cozy, softly lit illustrations.

13. Pete the Cat Saves Christmas by Eric Litwin
We love Pete the Cat. They are ridiculous and groovy and musical books. In the Christmas edition, Pete the Cat saves Christmas when Santa is ill and Christmas is in danger of being captured. (Free Song for Download Included)

14. Carl's Christmas by Alexandra Day
Typical of the silly adventures of Carl and baby, they are left alone on Christmas Eve and off they go on a grand adventure that even involves Santa Claus.

15. The Beautiful Christmas Tree by Charlotte Zolotow
This is a book from my Christmases as a child and it is one of my favorites. At three, our kids are finally starting to be old enough for it although I have read it to them every Christmas since they were born. It follows Mr. Crockett who rescues a scrawny, Charlie Brown-esque tree and patiently nurtures into a beautiful, vibrant pine. It offers a beautiful message about the basic goodness of people.

16. The Wild Christmas Reindeer by Jan Brett
Jan Brett has an interesting take on Santa's reindeer. In her tale, it is Little Teeka's job to get the reindeers ready for Santa's important night. Clever and beautifully illustrated.

17. The Last Christmas Tree by Stephen Krensky
A Christmas tree lot is bursting with trees but none are more excited about the season than a tiny, pathetic tree. Days go by and no one notices the tree. Christmas Eve it is deserted and alone until suddenly it is picked and placed in a sled. Beautifully illustrated and full of Christmas spirit.

18. Tallulah's Nutcracker by Marilyn Singer
Tallulah's Nutcracker is a welcome addition to the Tallulah series. The ever spunky Tallulah gets to be a rat in a real professional production of the Nutcracker. She practices hard, bursting with her typical enthusiasm, but when the big day comes disaster strikes and she trips.

19. Olivia Helps with Christmas by Ian Falconer
Getting ready for Christmas Olivia style - with lots of tangles and accidents. This is one our kids love to read again and again.

20. Who Is Coming to Our House? By Joseph Slate
"Who is coming to our house?" the animals ask. "Someone, someone" replies the mouse. Together they scurry about preparing for their mystery guest. Sweet story about simple preparations for Christmas and unique perspective on the Bethlehem story.

21. How the Grinch Stole Christmas by Dr. Seuss
Classic Christmas book and movie, this is likely in most Christmas book piles. The Grinch is taught by Cindy Lou and the Whos in Whoville the true meaning of Christmas.

22. Can You See What I See? Toyland Express by Walter Wick
Our kids love I Spy books. We had one on our list last year and this is a new one for us to spend hours exploring. Beautifully intricate photos full of hours of I Spy fun.

23. Christmas in the Big Woods by Laura Ingalls Wilder
This is part of the My First Little House Books series which is a great way to introduce little ones to this beloved series of books. I love the sweet, simple way this family celebrates the holidays together.

24. Wombat Divine by Mem Fox
Set in Australia, this is not your traditional Christmas book. Wombat loves Christmas and longs to be in the Nativity play. Will there be a part for Wombat in the play? Written by the lovely Mem Fox, this is a Christmas delight.

25. 'Twas The Night Before Christmas by Clement Clarke Moore and Holly Hobbie
This is my new favorite version of this beloved story. The words are familiar, but paired with dreamlike illustrations. Our favorite part is that a little baby is also awakened by Santa appearing and follows his daddy downstairs.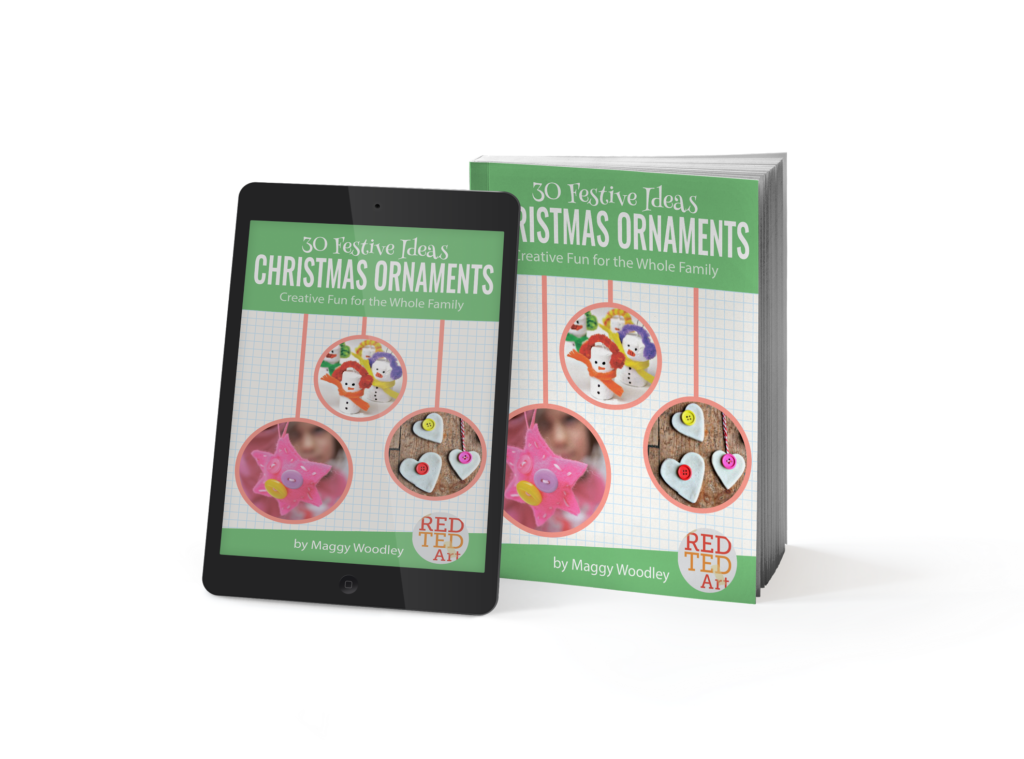 More Awesome Ornaments for Kids! Click to Order or Learn More
Materials:
Books Listed Below
Extensions:
*Fill a basket with Christmas books by the tree or wrap them and open them one by one.